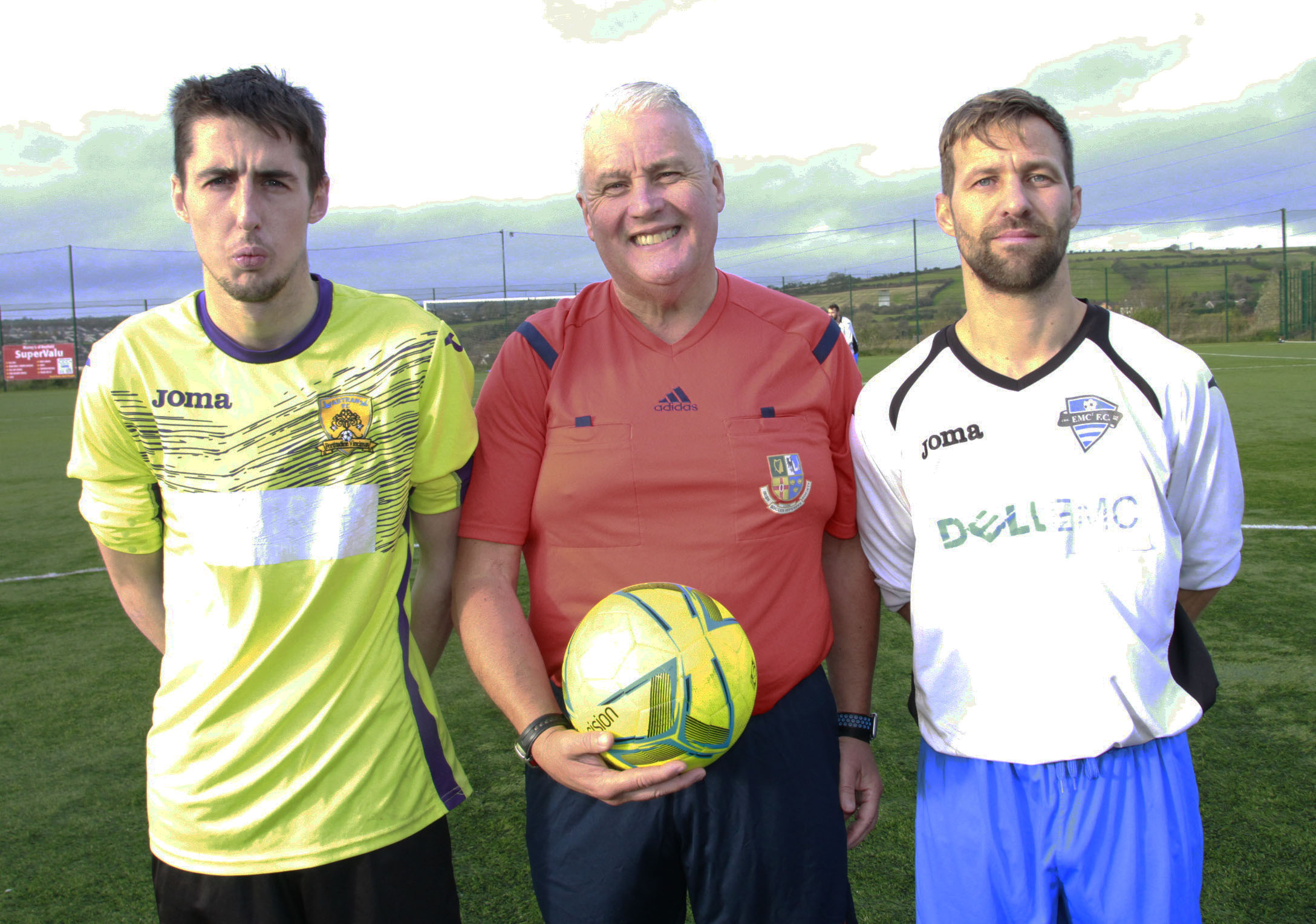 ? CBL Weekend Round-Up – Unbeaten Abtran make it through to last four!
? & ? Finbarr Buckley
? Rival captains Jordan O'Connor (Abtran), left, and Matt Tiffany (Dell EMC) pictured with referee Jim Hennessy before last Saturday afternoon's Sports Gear Direct Shield quarter-final at Mayfield Community School.
Sports Gear Direct Shield Quarter-Finals
Abtran 1 – 0 Dell EMC
ABTRAN continued their scintillating start to the season by winning for the fifth time in shield and league to make it through to the last four of this season's Sports Gear Direct Shield competition following last Saturday afternoon's one-nil win over Dell EMC at Mayfield Community School, writes Finbarr Buckley.
In a tight contest, the visitors went close in the first-half when Kevin O'Connor struck the crossbar. James Walsh also had a shot off the crossbar in the second 45 leaving Dell boss Michael Donegan wondering what his charges needed to do to break the deadlock. As the clock ticked to extra-time a William Corcoran free-kick was headed down by Aidan Fogarty for Chris Coughlan to scoop the winner for the home side with less than ten minutes remaining. Fogarty, John Murphy and Sean Cotter starred for the winners with Dell's best coming from Steve Dwane, Paul O'Hea and Brendan Daly.
https://www.facebook.com/AbtranFootball/posts/449566162347871
Janssen 7 – 2 Colso Celtic
Janssen had too much up front for an out of sorts Colso at Mayfield Park. The hosts cruised into a 5-0 interval lead and went seven up before  Craig Murphy and Kieran Callaghan pulled two back for the visitors. Kevin O'Neill netted a hat-trick with centre-forward Jamie Burns and Alan Murphy both scoring twice for the winners. Shane O'Riordan and Jason Whooley were impressive for Celtic.
https://www.facebook.com/colsocelticfc/posts/726805637833089
Satellite Taxis 3 – 3 CPL (Satellite won 4-2 on penalties)
In a tie re-fixed for Douglas Community School, holders Satellite were twenty minutes away from relinquishing the trophy and with it a third consecutive title, when they sensationally came from two down to level and win in the shoot-out. Cormac Collins looked to have given Satellite the perfect start after five minutes but credit CPL for staying in the tie and getting back on level terms through Ian Harrington in the 35th minute. After Satellite missed the chance to go in front, Afonse Gasper went by four defenders to edge CPL in front early in the second-half with Steve Cronin supplying Adrian O'Shea with the pass to make it three-one. Ross Healy leaped above the defence to head Satellite back in contention from a corner and with the surface detiorating  rapidly by the minute, Aaron West got on the end of a spill from the keeper to equalize deep into injury time. Emmet O'Neill, deputizing for Cian Hammond, saved his opponent's first two kicks in the shoot-out paving the way for a dramatic 4-2 win and keep alive the dream of a third title.
https://www.facebook.com/permalink.php?story_fbid=2472288266393893&id=1639598816329513&__tn__=-R