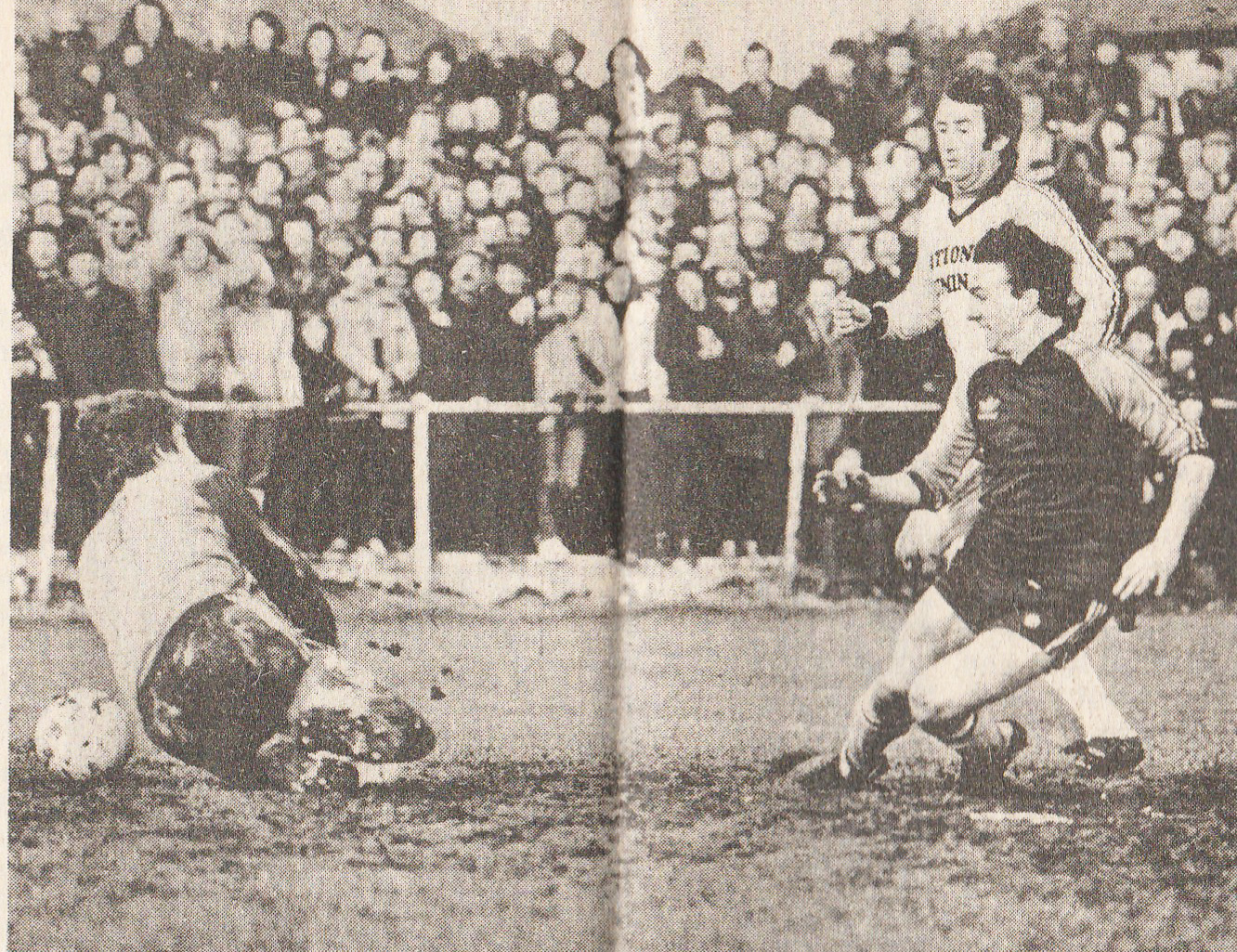 ? #ThrowbackThursday: Ramblers Shock Win over the Lilywhites! ?
✍? Finbarr Buckley
? Irish Examiner : Fergus McDaid (Cobh Ramblers), dark shirt, gets in ahead of Dundalk's Tommy McConville to slip the ball past goalkeeper Richie Blackmore to give 'The Rams' a 6th minute lead in the FAI Cup fourth round tie at St. Colman's Pk. on Sunday, February 6th 1983.
The recent FAI Cup draw interestingly kept the finalists for the last four seasons, ten time winners Dundalk and Cork City, apart and in the process sent both on tricky away ties to first division opposition in Cobh Ramblers and Cabinteely, respectively, writes Finbarr Buckley.
The Ramblers/Dundalk tie immediately caught the eye and recalled memories of a famous contest played in the 'Holy Ground' way back on February 6th 1983. With no senior club in league football at the time and the city in the grip of a crippling recession, non-league Cobh Ramblers were plunged into a fourth round tie against the then defending league champions, Dundalk . There was a quiet expectation in local circles that the defending, Munster Senior League and Munster Senior Cup champions had what it took to cause the shock of the round and restore much needed pride to an ailing City sorely deprived of economic and sporting success.
'The Rams' started kicking a ball in earnest in 1921/22, three years after their opponents were founded in 1919. While Dundalk amassed an impressive range of silverware in the interim to their meeting in 1983, including six league titles, seven cup victories, two shield, two league cup, three Dublin City accolades and one Inter-City cup. Cobh plied their trade in the Munster Senior League, winning an impressive twelve championships and an Intermediate Cup triumph in 1979/80.
Five of the Ramblers' starting eleven had league experience with two, namely winger Paddy Shortt and striker Frank O'Neill having won a league medal with Cork Celtic back in 1973/74. Centre-back Eddie O'Halloran and lively striker Paul Crowley had turned out for Cork United in the early 1980's while inspirational captain George Mellerick had a spell with Celtic before they folded in 1978/79. With most of the country hotly tipping a Dundalk triumph, many would not have been aware of Ramblers' cup pedigree and that a surprise of the magnitude today of even a struggling Cork City losing to a non-league team would be unthinkable. Over the last eight seasons Cobh took the 'scalps' of first Drogheda at Lourdes Stadium in 1975 and followed with wins over Limerick, Waterford, Galway United and Thurles Town while giving the likes of St. Pat's, Finn Harps and successive Cork sides vigorous contests.
Cobh easily accounted for UCC at the Farm in round one, winning four-nil with O'Halloran, Mellerick, Shortt and Mick O'Leary on target for the visitors. A tougher assignment lay ahead in round two with Longford Town travelling to Cobh only to succumb to a solitary Frank O'Neill strike. Dun Laoire Celtic were next up in Dun Laoire with Frank O'Neill (2) and Fergus McDaid scoring for the visitors who progressed 3-1 in the finish.
League champions Dundalk started with seven of the team which triumphed over Sligo in the 1981 cup final including Blackmore, McConville, Dunning, Byrne, Flanagan, Archbold and Fairclough and looked to have the easier passage to the last eight of all the league teams. A packed ground yielded gate receipts of £5,296 and what better way to excite an expectant attendance than to score twice in the opening sixteen minutes. In the 6th minute on a cloying surface, skipper Mellerick's booming clearance broke off Frank O'Neill for Fergus McDaid, in full flight, to flick the ball past Richie Blackmore. Ten minutes later the fervent home support were ecstatic when Eamonn Gregg conceded a corner for Shortt to send in a curler which Blackmore couldn't hold , the loose ball going in off O'Halloran's knee.
The hosts almost added a third when Crowley and Mellerick combined for Blackmore to deny Frank O'Neill from close range. Noel King's cross was nearly slotted in by John Archbold to reduce the deficit before the break but for all their second-half pressure the visitors failed to trouble Ramblers' eighteen year-old goalkeeper Paul Keating who, in his first season, dealt comfortably with whatever came his way. Dundalk's frustration came to ahead when King was dismissed for pulling down McDaid on the edge of the area. Eamonn O'Farrell's final whistle made it 'a day to remember, a result to cherish', as The Cork Examiner's Bill George opened his match report the following morning.
Ramblers went on to defeat Finn Harps in the last eight and took eventual winners Sligo Rovers to a third replay in the semi-final before going out after having led two-nil at half-time in the deciding tie at the Showgrounds. The cup run would be the catalyst for the club to seek election to the League of Ireland where they have competed ever since. The current crop of Ramblers can draw inspiration from the heroics of the past and turn in another heart-warming performance that reflects the character and ability of their proud club as they seek promotion to the top flight in 2019.
For a period of twenty minutes in the first-half against Dundalk, Ramblers scaled the heights which few Cork teams have reached in the past and might inspire future young Ramblers' stars to achieve again in the not too distant future.
Cobh Ramblers : Paul Keating : Liam Naughton, George Wilshaw; Eddie O'Halloran, George Mellerick (capt.); Mick O'Leary, Paddy Shortt, Paul O'Neill; Frank O'Neill, Fergus McDaid, Paul Crowley.
Dundalk: Richie Blackmore: Eamonn Gregg, Sean Wright; Tommy McConville, Paddy Dunning; Sean Byrne (David Kelly), Leo 'Pop' Flanagan, Noel King, Mick Fairclough, John Archbold, Hilary Carlyle (Willie Crawley).
Referee: Eamonn Farrell (Dublin)
? Irish Examiner : Cobh Ramblers' Eddie O'Halloran ,(centre, dark shirt), doubles his team's lead in the 16th minute of the FAI Cup fourth round tie against Dundalk at St. Colman's Pk.