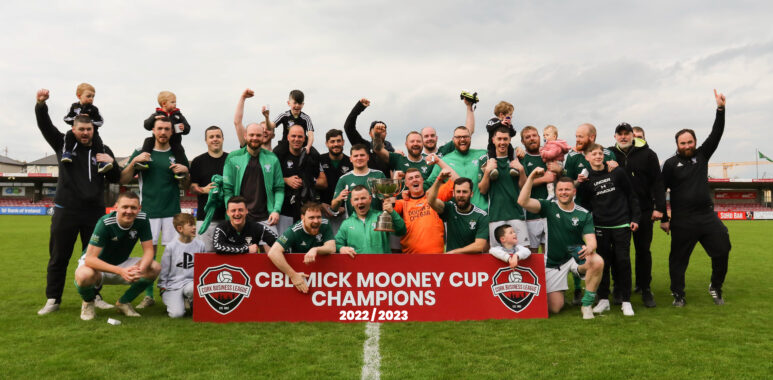 Sports Gear Direct CBL Mick Mooney Cup Final Match Report: Doolan's Cow Bar 2 – 1 UCC United
📝 Finbarr Buckley

Holders Doolan's Cow retained the Mooney Cup following a thrilling extra-time win over UCC United at Turner's Cross on Sunday afternoon. 23rd April 2023.
UCC, appearing in their first Challenge Cup decider, created the first opening through the pacey Ali Ahmidat whose run and cross picked out Adam Lannon. The striker pulled his shot wide of Eddie Scanlon before a break by James Cotter at the other end led to his cross beings touched off the toe of Jamie Murphy by David Foley. Messina and Montgomery were next to threaten for United before Murphy slipped two challenges only for his goal bound shot to come back off the foot of the post.
The deadlock was finally broken in the 26th minute by Cotter who flicked on Aaron Hennessy's
corner past a host of defenders at the near post. UCC were dominant in the early stages of the second-half and deservedly equalized in the 67th minute through the wily Eric Montgomery whose neat control and devastating strike left Scanlon stranded.
With both teams pushing for the winner, extra-time was needed before the irrepressible Jamie Murphy popped up with a deadly strike in added time in the first-half of extra-time, with his swerving shot spilling out of the reach of the unfortunate Galvin who was one of the stars for the College on the day.

Doolan's Cow: Edward Scanlon, Wayne Buckley, Ian McCarthy, Brian Harris, Craig Keegan, Stephen McCarthy (Bryan O'Leary), Aaron Hennessy, Dylan O'Donoghue; Tony O'Reilly (capt.) (Keith McCarthy) , James Cotter, Jamie Murphy.

UCC United: Kevin Galvin, Matt Ellis, David Foley, Walter Messina (capt.), Joe Normoyle, Eoin Gunnigle, Mo El Shouky , Gokhan Dumlupinar, Eric Montgomery, Adam Lannon (Pinel), Alo Ahmidat (O'Hanlon) (Zahorodniuk).

Referee: Tomas Coughlan. Assistants: Sumate Virak and Bryan Forde. Fourth Official: Denis Cronin.