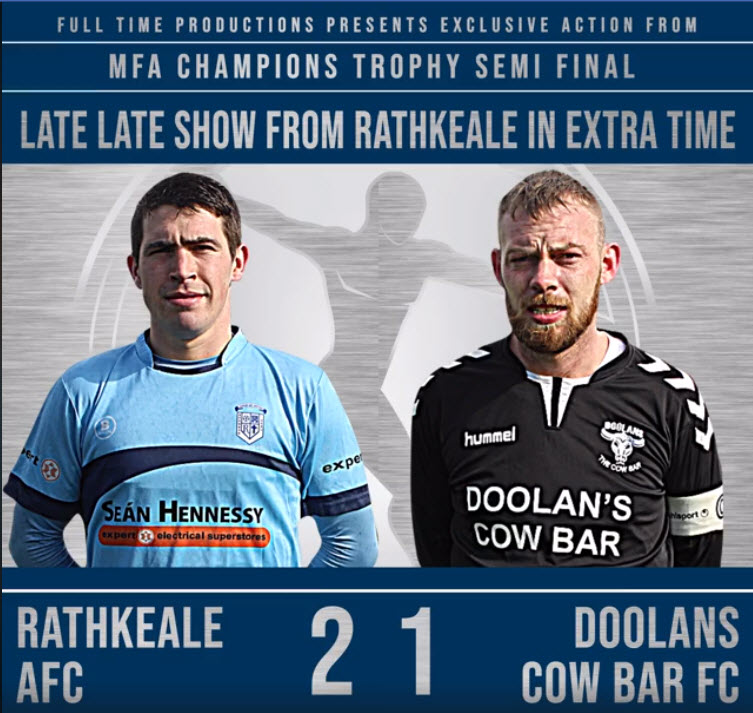 ? WATCH ? | MFA Champions Trophy Semi Final Highlights | Full Time Productions
Rathkeale AFC (Limerick Desmond League) and Doolan's Cow Bar FC (Cork Business League) met in the penultimate game in the Munster Football Association's Champions Trophy where all the top league winners in the province meet.
There was late drama in this one as Patrick Ahern netted a last gasp winner in extra time to send Rathkeale through to the final.
https://www.facebook.com/Fulltimeproductions1/videos/181551199957999/?__xts__[0]=68.ARBs_EsNkLghEAAlhTxI8ZV4-N4Mfow5QOfVu_VPRe44yoEZE8WbdLDCHeOOYDY75kudF0wC5v7JrxsK5HQ7iDL-ZCQRcoPgwgIqI4DF-yI-2jOL7GbZSdrZaBYZzVWjrTJBPJlnoVccvhtmyJsQ7NEgTQS1-gkELjCAtrA4acuxj1siGO_dvPAlB6fNgwGoWGc3iLhxZDWksns9BsIKMyyBm5eyiRh3ewGqGwpCBp852AknRU0a4EckHAsXNCBHJf6_lG-X8c-AsTQj_Y_55OjpmyStC5H2nm1w3–kG44F5EvHhSwjG0eooIWXNfqgzmVASlwVuXH5fUT81NwqNjCfFAKKMwpfBA1cmzcXAPrLLVHq1NicklcYQAZ-agXp_fxNOT1tiqdg24LymyGmQLUYHdt6f41OxRqJTux1o_9gvtqDWJqH4uY4jifaPztlnPt-ecu4_Jczt0-gN2THjRCCXzsCCT39IqSGk8ND7ehUpazPjOrbdV3E4Wz6L6VMB4uC0-mktk0-ArenfR7BcQ3CyTdKU6GapQCBzYAw40zhW0xkxP_UccRTbL83wX9qNajFhmPiy3r-Ysg71_l3DGxaY34jK_R32TDYqTJVZpe1Wm4ri1FVezFM3J9drV8evkFDcNhsbTXKMt992uxgxGnr2VLHVPUa5u0iHBiJCb4qhqzv4EKQd9i4ldmHssWuXLI15Nxv10N9EYiI01ZXDwDSbfv3Cxmj&__xts__[1]=68.ARAwjaJMAEVR1S_2wdHIBXLEkW79LA0I4hZ-uuo0EOZrmy-4CNcJun2MGe9qhDd4TZXpjI-3eSRupvNnPPg21qbeQ_QfkxDmMBWcwfDUQm2c-rh4aSHvudBV7eFqcy4GhOfN7cpZ9-CU9zAMJxapVjP84TZp8HLM3DOC-21DUnO-VIEyesnX6HL4CQeS_YSWlpYSN4bOKrwT_-RSM8W0OoUrE21iqZMSBEkmhvHxq-nGkUUryARd-6K5kXzUEKfR1FR7rOboepfcNhjgbsUu14a8_Fn6RiN8kLnnbCJmsVWWwxB15nYnBSs86dbCCyKJuVzB5hL5u-6AKf-_5oVYepGrUPuKX_zDnzIpBMLxtyWBASBiXyulsQ-gdjVPg0uR4i42GBECJmX2nfeL9OfyZACyfBjStb5KUVXW4xAw5GyDCVS3giFnhGRiTW1WOsQpUt_HoyD3eSgzDXWlLteOD9St9mFlB4oItAf_IYH-oryEfP067ckvTcp-PjtjfsBxtHZLd6gAATcPTqrJYgcs57N7kQ1BRLA3jqpV1kPANl9XPE4wavc00TxsYbUMr08i2-nQIbiffWp5GTZtzLLL5SnIp_bow-n2h9oJHaIdIVpPnVnyAVVNoBq7pfGcR5uXwhObvO5hiueOxz63kVn0S-B8HSjGDvVXZIMAFhhLh_4-CREwOeuht5oq_gfMqjoAkxFCk3VyVpjqy7BhMknj4KqaGlTX-P9N&__tn__=-R