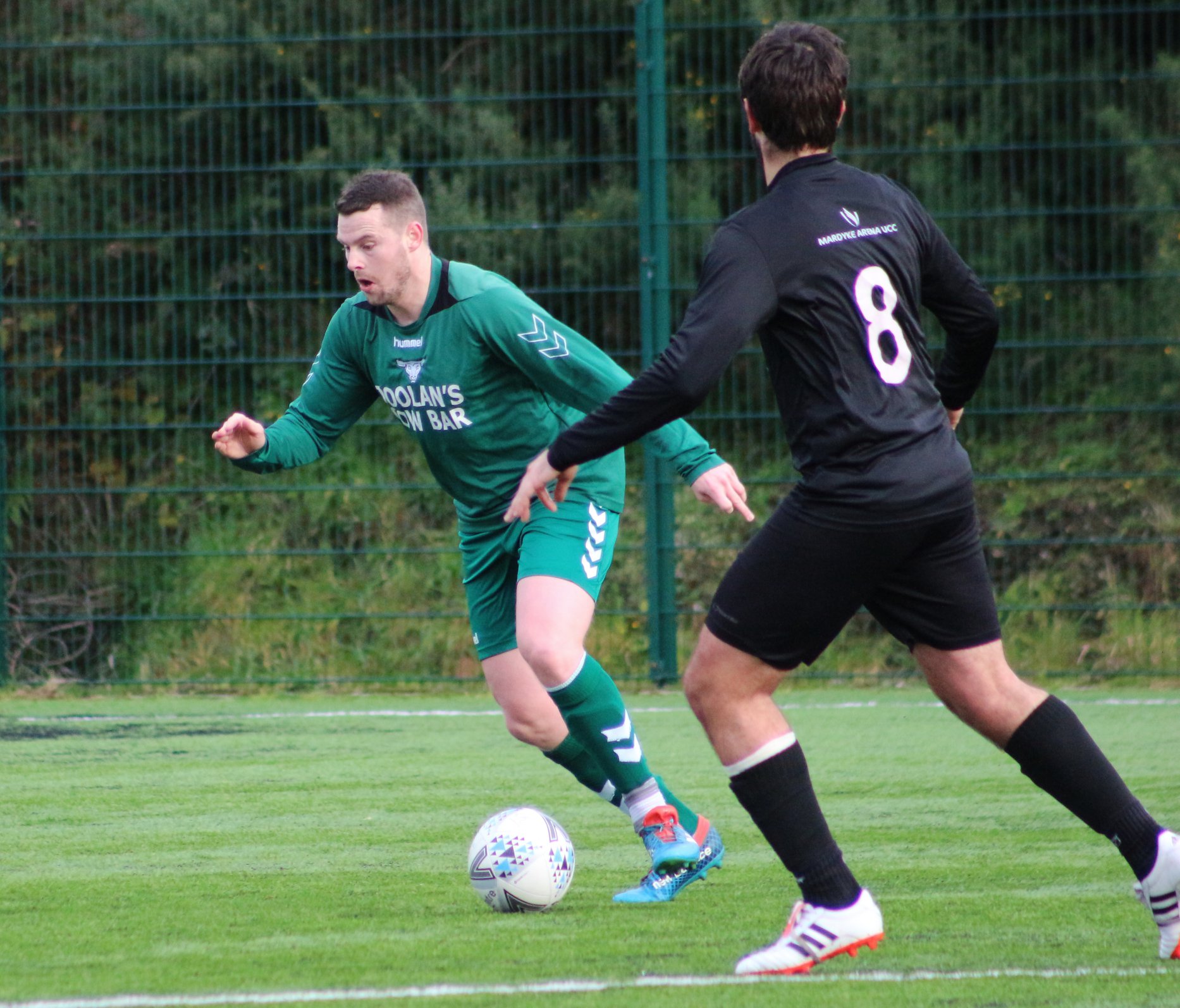 ? CBL Weekend Round-Up: Doolan's Milk Another Fine Win in Junior Cup!     
? Finbarr Buckley
? Nicky Mulcahy (Unofficial: Football): Jamie Murphy of Doolans Cow takes it passed UCC United's Manuel Odelli during last Sunday's FAI Junior Cup 4th Round tie.
New Balance FAI Junior Cup – Fourth Round
Doolans Cow 4 – 1 UCC United
PERFORMANCE of the weekend belongs once again to the irrepressible Doolan's Cow who once again navigated the treacherous waters of local cup competition to make it through to open draw following an impressive 4-1 win over fellow league representatives UCC Utd. at Mayfield Community School, last Sunday morning, writes Finbarr Buckley.
The home side were up and at it as early as the 13th minute when James Cotter's penalty sent the keeper the wrong way after Craig Keegan was upended in the area. Alan Monaher's menacing run led to Aaron Hennessy applying the second from close range three minutes before half-time with Cotter effectively sealing the tie with a third thirty seconds into the second 45 after an excellent assist from Hennessy. Jamie Murphy made it four-nil in the 55th minute before Eric Montgomery pulled a consolation back for United with twenty minutes remaining. Keith McCarthy, Stephen Wall Heffernan and Tony O'Reilly were superb for the winners.
https://www.facebook.com/permalink.php?story_fbid=3432246050134065&id=1102617276430299
Sports Gear Direct First Division
Martin Harvey Solicitors 0 – 4 Planet Entertainment (Cork)
Planet went one better last Friday night at Mayfield Community School than when the teams met earlier in the shield back in mid September. On that occasion the visitors, after a slow start, won 3-0 but are now a different proposition and full of confidence with a shield quarter-final tie to look forward to. Planet came out of the blocks quicker to go one up early through another one of Gary McCarthy's trademark free-kicks which found a gap in the wall before ending up in the back of the net. Despite creating a number of scoring opportunities in the opening half, Planet didn't add to their tally until 'Big' Joe Cullagh used his power and pace to score twice in quick succession midways through the second 45 leaving Dylan Sheridan to complete the scoring late on after being put through by James Morrissey. Cullagh, Morrissey, Stephen Crowley and Charlie Murphy shone for the winners.
https://www.facebook.com/CorkBusinessLge/photos/a.674774972658406/1681519381983955/?type=3&theater
https://www.facebook.com/105973200784789/photos/a.132385608143548/146417936740315/?type=3&theater
Abtran 4 – 1 Cork Hospitals
Abtran's bright start to the season continued with a sixth win in all competitions, this time against Cork Hospitals. After Dusan Ljubojevic gave the visitors the lead on the half hour, Dale Dalton combined with the in-form William Corcoran five minutes later for the latter to give keeper John O'Neill no chance with a crisp finish. O'Neill prevented the hosts from extending their lead for the remainder of the half with a string of fine saves before a Danny O'Brien penalty after Eoghan O'Sullivan was taken down in the 55th minute put Abtran in front for the first time. The introduction of sub Chris Coughlan, the former ALPHA SuD striker and 2017 golden boot winner, swung the contest in Abtran's favour with two goals inside the final twenty minutes. Corcoran and the centre-back pairing of John Murphy and Aidan Fogarty were the pick of Abtran's eleven on the day.
https://www.facebook.com/AbtranFootball/photos/a.322232468414575/454157445222076/?type=3&theater
Dell EMC 1 – 3 VoxPro
Dell EMC would have been expected to come out on top after winning 4-2 in the shield earlier in the campaign but the recent two week lay-off certainly affected Dell more as the visitors made light of last season's disappointing league form to win comfortably in the end. Reece Hogan, Eoin Hayes and an own goal registered the goals for the winners while the host's reply came courtesy of Rob Ahern.
https://www.facebook.com/permalink.php?story_fbid=3032927916734476&id=1089485911078696
Janssen 6 – 1 The Weigh Inn Dripsey
The Weigh Inn's late surge to save the match at four down led to two more goals conceded but manager Dom Twohig Senior might have hoped for a better outcome had he not lost the services of the influential Frank Field who was forced to retire early on after a clash of heads with teammate Paddy Murphy. Jamie 'Big' Burns scored a hat-trick for the winners with Alan Murphy, Emmett Keoghan and James O'Sullivan also among the goals. Daniel O'Driscoll, who starred for the visitors along with Jack Casey and Michael O'Riordan, netted Dripsey's reply.
https://www.facebook.com/dripsey.celtic/posts/153731975860005
CPL 0 – 8 Colso Celtic
The first league meeting between this season's debutants was comprehensively won by Colso who rattled the net eight times through Alex Cummins (3), Chris Wall (2), Jason Hooley, Adam Cambridge and Gerard James McCann. Cambridge, Hooley and Olan Birmingham caught the eye for the visitors.
https://www.facebook.com/colsocelticfc/posts/732727413907578
Sports Gear Direct Premier Division
Co. Council 2 – 3 Healy O'Connor Solicitors
In a competitive contest at The Regional Pk., Healy edged home in the finish despite being ahead on two occasions. Shane Healy opened the scoring for Healy's midways through the first-half with Grzegorz  Sienicki equalizing before the break. Yasyn Essahel squeezed Healy's ahead again only for Johnny Buckley to tie up the match with fifteen minutes remaining. Healy won it for the visitors with a late penalty to seal a welcome three points for the visitors. Council went lose to salvaging a point only to have two efforts come back off the crossbar. Jordan Hughes and Dave Murphy played well for the home teams with Justin Banks and Brian Casey the pick of Healy's eleven.
SCS Crookstown Utd. 4 – 0 OBS
The first meeting in the top flight between last season's promoted teams went Crookstown's way with all the goals coming late in each half. There was little to choose between the teams in the opening half-hour with Crookstown's Pa O'Sullivan gifted an opportunity to break the deadlock only to miss a chance his watching father, himself a defender in his playing career, said he would even have scored. Lloyd Asling's header into space in the 42nd minute led to David O'Halloran dispossessing a defender and finishing in the corner for the opener for Crookstown. O'Halloran, Aidan Deasy and O'Halloran again wrapped up a second win for the hosts in the final twelve minutes. The back-four pairing of Alan Moreland, Philip Fehily, Steve Corbett and Dave Spillane had done well for the visitors who need a win to boost confidence.
https://www.facebook.com/crookstownunitedfc/posts/775094732937888
Satellite Taxis 3 – 3 Marlboro Trust
Not many teams recover from two down away to Satellite and come away with something but that is what Marlboro Trust achieved in the duel of the former co-occupiers of Deerpark Secondary School. Satellite's lively start led to Shane Hennessy crossing for captain Shane Dorgan to head taxis in front. Within minutes Simon Irwin next found Shane Doody who skipped a few tackles to unleash an unstoppable second. Trust were given a life line as Satellite lowered the tempo when Daniel del Blanco reduced the deficit before half-time only for Hennessy to stretch the lead again to two from a penalty. An excellent turn and shot from Kevin McMahon put a goal between the teams again and when del Blanco's finished a deep cross at the far post for 3-3, it brought the curtain down on a lively  encounter.
https://www.facebook.com/permalink.php?story_fbid=2478681189087934&id=1639598816329513