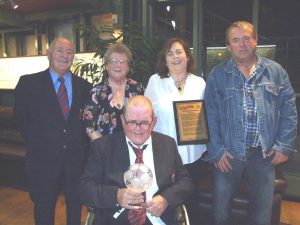 ? "Mr. Shipping League", Jackie was one of football's true gentlemen!
? Finbarr Buckley – Originally Published on Tuesday 13th October 2015
It was with great sadness that members of the Cork Business & Shipping League management committee and the wider soccer public heard of the passing a week ago today of former MFA Vice-Chairman and CBSL Honorary Life President, Jackie O'Driscoll, writes Finbarr Buckley.
His story began in an area now called Sun Valley Drive  on Cork's north side in 1935. Born the eldest son of Dinny, a docker, and Nancy, Jack, along with his sister, Kitty and brother Denis, later moved to Gurranabraher where two of his first great passions took root, singing and harrier racing.  He joined the famous Fair Hill Harriers club after he left school where he pursued his love for the hounds and   trained the top dog at the time, Challenger, to many successes.
After marrying Nancy and moving to Close's Road, Jack worked at the Farmer's Union Bacon Factory in Ballincollig where he played with the company's football team which called itself Olympic after its prized sausage, He was instantly recognisable in the peaked cap in goal for his former employer Farmer's Union, going on to become  the club's league delegate in 1966.He joined the CBSL management committee in 1970 before being appointed as chairman in 1980 and elected a member of the MFA and the FAI Junior Council. He served as a dedicated administrator for over thirty years, becoming known throughout the soccer fraternity as 'Mr. Shipping League', before the association struck gold when it availed of his services as a groundsman at Turner's Cross following his redundancy from the BallincollIg meat factory in 1990.
In 2001 he suffered a stroke which confined him to a wheelchair but his dedicated work in maintaining the playing surface at the 'Cross 'was rewarded when he was given a benefit match at the venue on December 1st 2003. A star studded Cork City eleven defeated a CBSL representative team on a night when football's finest paid tribute to the man unanimously described as 'a giant among the legion of unheralded heroes!'  He was further honoured with a Distinguished Service Award at the Cork AUL and Murphy's Stout Cork Soccer Honours in November 2012. His long battle with illness in recent years never diminished his enthusiasm for football as his recollections of the many people and stories he encountered throughout his career continued to entertain and enthrall right up almost to recent weeks when he held the new trophy named in his honour, the Jackie O'Driscoll Premier Division Cup, with all the wonderment of a schoolboy holding his first ever piece of silverware. He is survived by sister Kitty, brother Denis (assistant secretary of the MFA), daughter Siobhan and sons Matthew and Denis and extended family.
Ar Fheis Dé go raibh a anam !