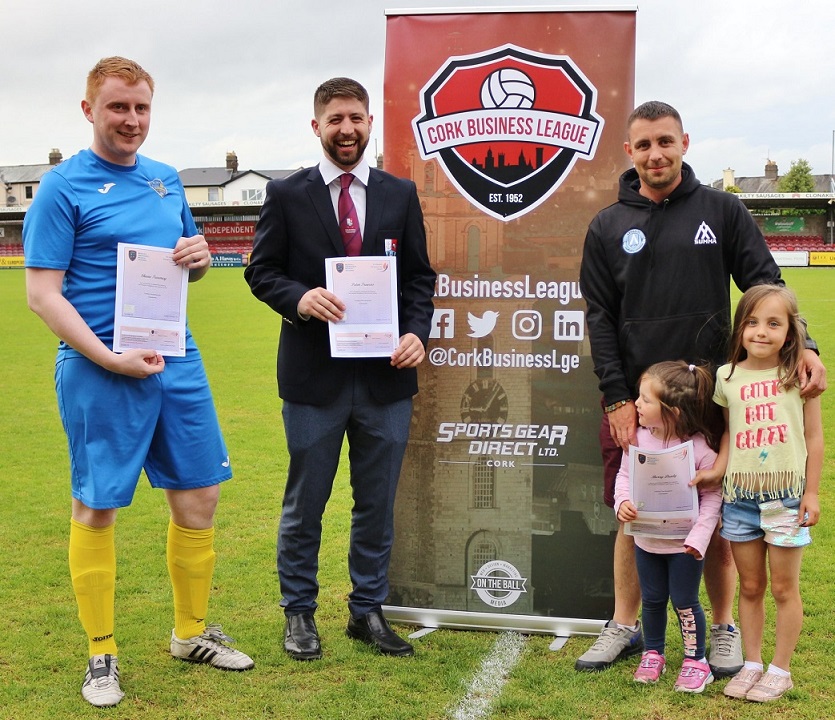 Abtran, Satellite Taxis & UCC United Receive CPR Certs
Click on each photo to enlarge ?
At half-time of this years Mick Mooney Cup, Barry Deady (Abtran), Shane Twomey (Satellite Taxis) & Peter Travers (UCC United & Cork Business League) were awarded CPR  First Responders  Certificates for a course completed recently.
On Saturday February 16th 2019, the Cork Business League in partnership with the Kevin O'Flynn Group, arranged a CPR First Responder Training for the League. This 1 day course is a Cardiac First Responders Course that will allow the participant to carry out emergency first aid and also be competent in the use of a defibrillator. A Cardiac First Responder (CFR) is a person trained to a minimum level of basic life support in CPR and the use of an AED/defibrillator, who attends an actual or potentially life threatening emergency such as a cardiac arrest, heart attack, stroke or choking.
Kevin, from Fermoy, passed away from a Cardiac event on a soccer pitch at the age of 34 in August 2015. By training people to become more aware of how to use a defibrillator we hope to save the life of someone who may have a Cardiac event in the community The course ran from 9.45 am to 3pm in University College Cork, with a break for lunch. On completion of the Course, the Group presented the League with Mobile Defibrillator for it to be available during matches.