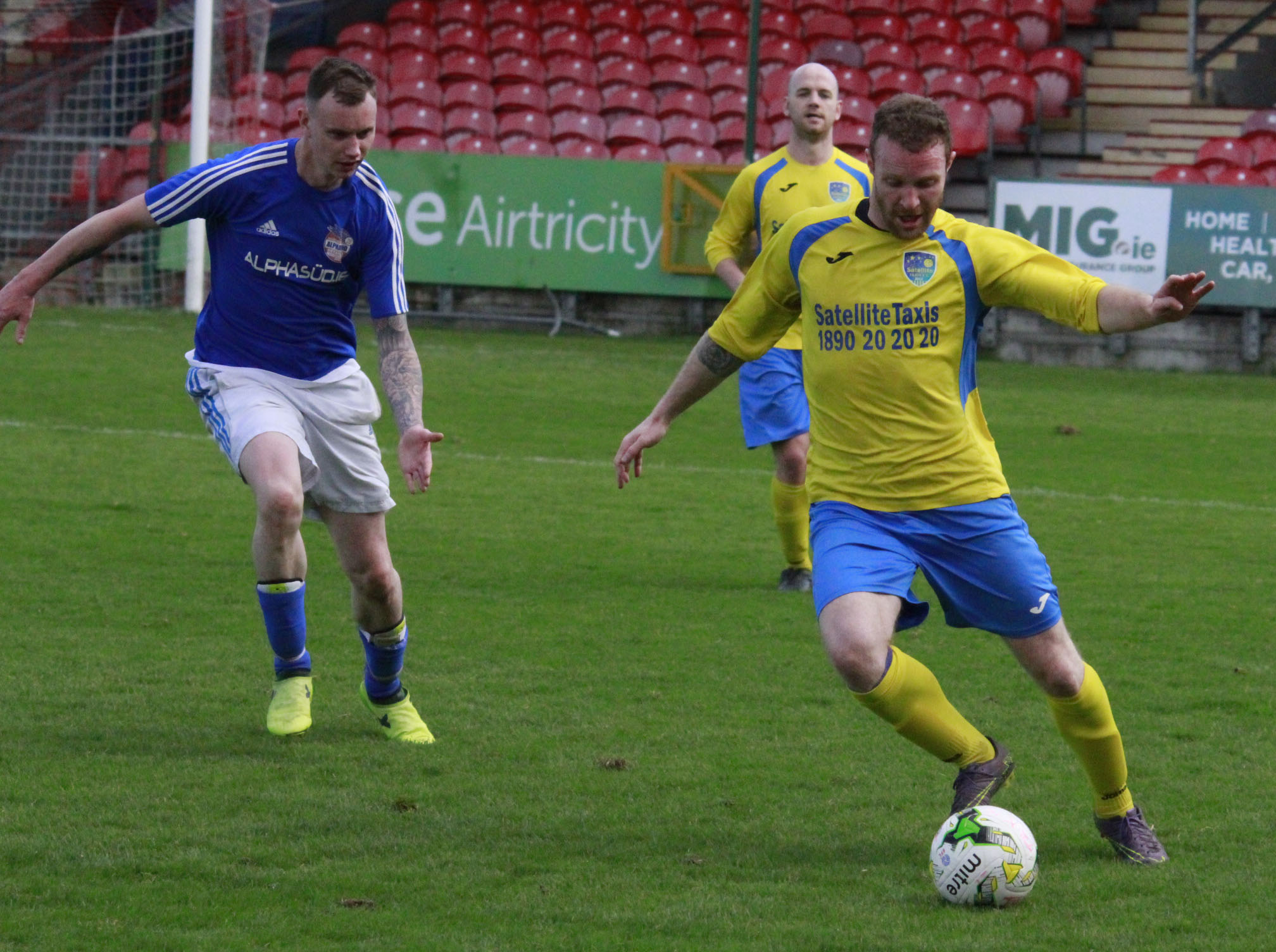 Mick Mooney Cup Final Build Up | Alphasud 1 – 1 Satellite Taxis (2018)
64th Sports Gear Direct Mooney Cup Final
ALPHA SüD 1 – 1  Satellite Taxis  AET (Satellite won 3-2 on pens.)
SATELLITE TAXIS won the Sports Gear Direct Mooney Cup for the first time following a titanic struggle with recently crowned first division champions ALPHA SüD at sun-drenched Turner's Cross last Sunday morning, writes Finbarr Buckley.
The shield winners have now added the coveted Mooney Cup to their trophy cabinet this season after going close to seeing their dream double unravel in the most dramatic of  shoot-outs as twice underdogs ALPHA SüD held the advantage before substitute Eoghan Buckley's last kick of the five sealed a gripping victory.
ALPHA SuD's bright opening was punctuated by crisp, sharp passing with wide men Scott Roe and Shane McGill stretching Satellite and forcing the defence into a number of hurried clearances. With With the midfield trio of Stephen Heffernan, Glenn O'Donovan and Adam Cambridge enjoying the competitive in the centre, Satellite's supply to front men Breff McCarthy and Shane Hennessy was virtually non-existent. To the surprise of many, but not to the legions of ALPHA SuD supporters in the sizeable attendance and in a period of dominance, the northsiders broke the deadlock on eight minutes.
Adam Cambridge swung in a free-kick wide on the left, just inside his own half, for Shane McGill to glance a header with of Cian Hammond and into the top corner. With barely twenty minutes on the clock Cambridge unleashed another free-kick, this time on the other flank, which whizzed past Hammond's right-hand post. At the other end, eighteen year-old ALPHA SüD keeper William Murphy, son of double cup winner Willie, was rarely called into action, twice fisting away corners while under pressure from McCarthy and Hennessy. With Satellite still trying to find a semblance of their free-flowing, attacking football as the half drew to a close, John Harris fired in a long range  equalizer from full twenty-five yards a minute before half-time in Satellite's  first meaningful attempt on goal which dipped viciously outside the out-stretched fingers of Murphy at full stretch.
Satellite came out in determined mood for the second 45 and proceeded to pin their opponents back into their own half for long periods with Cambridge and Chris Oliver twice clearing off the line as sub Aaron O'Sullivan reigned in corner after corner on the crowded goalmouth. ALPHA SüD 's central defenders John Murphy and Aidan Fogarty were magnificent with everything which was thrown at the them and deservedly Fogarty, although on the losing side at the finish, garnered the man-of-the-match for his outstanding performance in nullifying the threat of McCarthy and Hennessy up front. ALPHA SüD boss Dominic Heffernan and assistant Jason Wall rung the changes with the  treble substation of Darren Walsh, Tommy McGrath and Chris Wall which got their team back into competing in the centre and up front.
Murphy was twice fortunate to deflect shots from Hennessy and Shane Dorgan to safety, the latter where the ball bounced up and struck the keeper in the face. Neither team could force a winner in the twenty minutes of added time with the shoot-out favouring Satellite at the finish after being behind on two occasions and seeing out a minor disturbance which temporarily delayed the taking of the last kick of each team.
Satellite manager Paul Calnan agreed that ALPHA SüD were on top in the first half but added :  'We had three taken off the line in the second-half but today was all about Red (Geaney) who suffered a laceration to his liver in a recent cup tie.' His counterpart Dominic Heffernan said : Their equalizer took the stuffing out of us a bit but we did well and to get the first division trophy afterwards was a huge boost.'
Referee Denis Cronin allowed play to flow whenever possible which added to the enjoyment of the match and was ably assisted by polished performances from Yves Kriwan and Stephen Madine.
ALPHA SüD  : Williiam Murphy : Chris Oliver, Jason Kelly (Ricky Meehan);  John Murphy, Aidan Fogerty;  Stephen lHeffernan,  Scott Roe (Tommy McGrath), Glen O'Donovan;  Chris Coughlan (capt.) (Chris Wall), Adam Cambridge, Shane McGill (Darren Walsh).
Satellite Taxis : Cian Hammond : Kevin O'Brien, Shane Doody ; Eric Kennedy; Eoin Newman; John Harris, Simon Irwin (Aaron O'Sullivan), Michéal Doody (Jeff Abbott) ;  Breff McCarthy (Eoghan Buckley), Shane Dorgan (capt.), Shane Hennessy.
Referee : Denis Cronin.  Assistants : Yves Kriwan & Stephen Madine